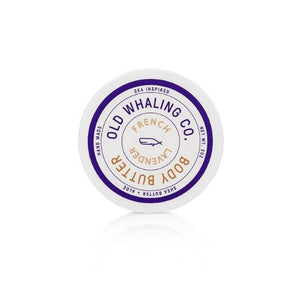 Old Whaling Company
French Lavender Scented 2 oz Body Butter
Regular price
$8.00
Sale price
$9.00
Unit price
per
French Lavender is a tranquil, floral blend with notes of mountain heather and wild rose. Our favorite fragrance for inspiring sleep and serenity, this soothing scent is reminiscent of a gentle breeze rolling through a peaceful meadow of wild lavender.
Old Whaling Company body butter is a perfect moisturizer for after shower, shaving, sun, or as needed! It is lightweight and soaks in quickly. A little goes a long way and will leave you soft and smooth. The star ingredients of shea butter, organic sunflower oil and organic aloe vera is nourishing and great for all types of skin.
2oz Body Butters are perfect for pockets, purses, and planes, so no matter where your travels may take you, you can carry these sea-inspired scents with you for midday pampering and refreshment. Also available in a 8oz full size.
Scent – Top: Lavender, Mountain Heather, Rose; Base: Lilac, Tonka, Orange Flower
Ingredients –
Water,
Cetearyl Alcohol - made of fatty acids, thickener, emulsifier
Isopropyl Myristate- naturally occurring fatty acid and emollient, skin conditioning
Stearic Acid - kosher grade, vegetable source, thickener and emulsion stabilizer (binds oil with water)
Caprylic/Capric Triglyceride - moisturizer - made from fraction of palm and coconut oils, stabilizer, great for sensitive skin
Ceteareth-20
Glyceryl Stearate- emulsifier
Shea Butter [Butyrospermum Parkii]
Dimethicone - silicone based polymer
DMDM Hydantoin- antimicrobial
Organic Sunflower Oil [Helianthus Annuus Seed Oil]
Organic Aloe Vera [Aloe Barbadensis Leaf Juice]
Iodopropynyl Butylcarbamate- preservative, antifungal- prevents product from spoiling and growing bacteria
Fragrance
NO: mineral oil, parabens, sulfates, phthalates or color
---