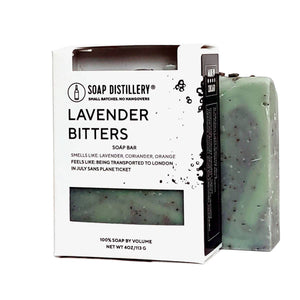 Soap Distillery
Lavender Bitters Scented 4 oz Bar Soap
Regular price
$7.50
$0.00
Unit price
per
For all those looking for lavender, this is for you! Deliciously aromatic, lavender buds not only smell good, but they also have calming effects. This soap is no different. Fragrant and relaxing, this will turn your shower into a day at the spa. Floral with a hint of spice and citrus, it's well balanced and perfect for anyone who loves the scent of fresh flowers and cut ginger. Contains ground lavender buds for a mild exfoliation. Naturally fragranced.
Soap Distillery's high olive oil recipe makes this a milder bar, and it is inherently high in vitamin E. Cold process soaps also have naturally occurring glycerin, which draws moisture to your skin. The soap is perfect for everyday use, all over the body.
Ingredients –
saponified oils (coconut, olive, sunflower)
essential oil blend
lavender buds
oxides
rosemary leaf extract.
All soap bars are phthalate, nitro musk, artificial detergent, silicone, preservative, and palm oil free!  Please store your handmade soap bar in a well-draining dish to insure a long shelf life, and keep out of the sun. Due to the hand-cut/handmade nature of the bars, sizes and colors may slightly vary.
---